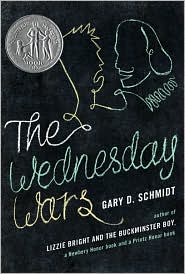 Meet 13 year-old Holling Hoodhood: the only son of the only Presbyterian family in a neighborhood divided by Jews and Catholics. In other words, he's the only kid who has to stay behind with his teacher on Wednesday afternoons while the rest of his classmates go to Hebrew school or Catechism class in Gary Schmidt's 2007 Newbury Honor book,
The Wednesday Wars
.
The novel's title is inspired by Holling's insistence that his English teacher, Mrs. Baker (who is a little testy, thanks to her husband's serving in the
Vietnam War
), hates his guts, because she now has to spend her Wednesday afternoons alone with Holling, instead of enjoying afternoon tea with the her "Wives of Vietnam Soldiers" club. Holling's proof that she hates his guts? In addition to assigning him such lowly tasks as banging erasers and cleaning the cages of Sycorax & Caliban (the class' pet rats), she also forces him to read and perform
Shakespeare
(the horror)!
To complicate things further, Holling's troubles do not end with Mrs. Baker. On the home front (better known as the "Perfect House"), he is forced into playing the unwitting peacemaker in battles between his budding
flower-child
sister, his stereotypical 1960's housewife mother, and his overbearing, small-business owning,
Walter Cronkite
-loving father.
The novel progresses in a predictable manner, with Holling eventually coming to realize that not only does Mrs. Baker not hate his guts, but that there is actually more to her than he initially thought. Same goes for Shakespeare. The slapstick comedy scenes (think, "
American Pie
" for 'tweens), is balanced by sobering reality checks from the Vietnam War. The end of the novel, though expected, is just the right combination of silly and sentimental to save it from the banality with which it dangerously flirts.
All in all, the book just didn't do it for me (making me really wish I had read this book before I agreed to make it a part of my 6th graders' curriculum). But, if you're looking for a quick read, a few chuckles, and a good message, The Wednesday Wars will deliver--no Post Traumatic Stress Syndrome strings attached.